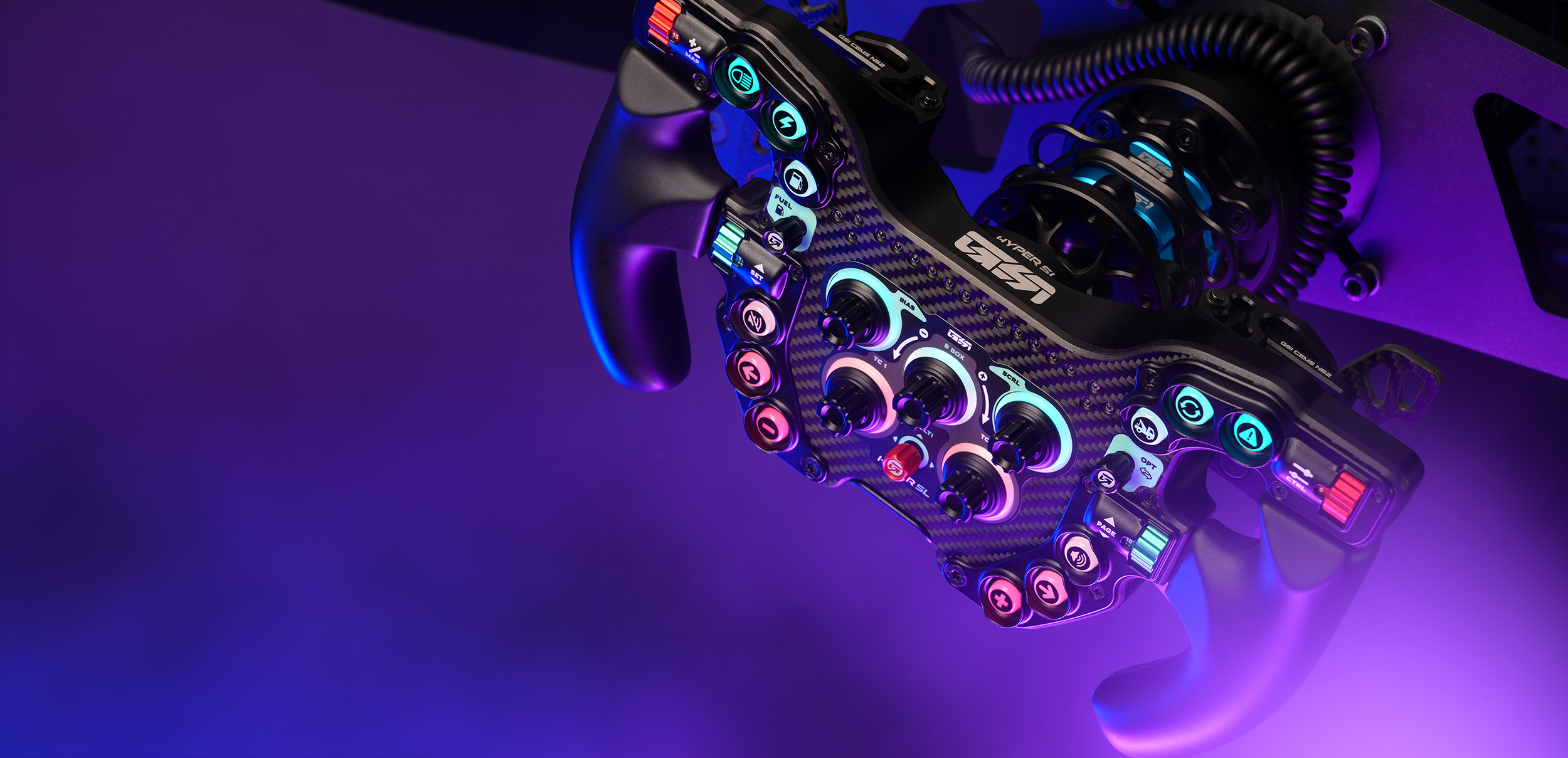 The Ultimate (Screenless) Weapon
HYPER SL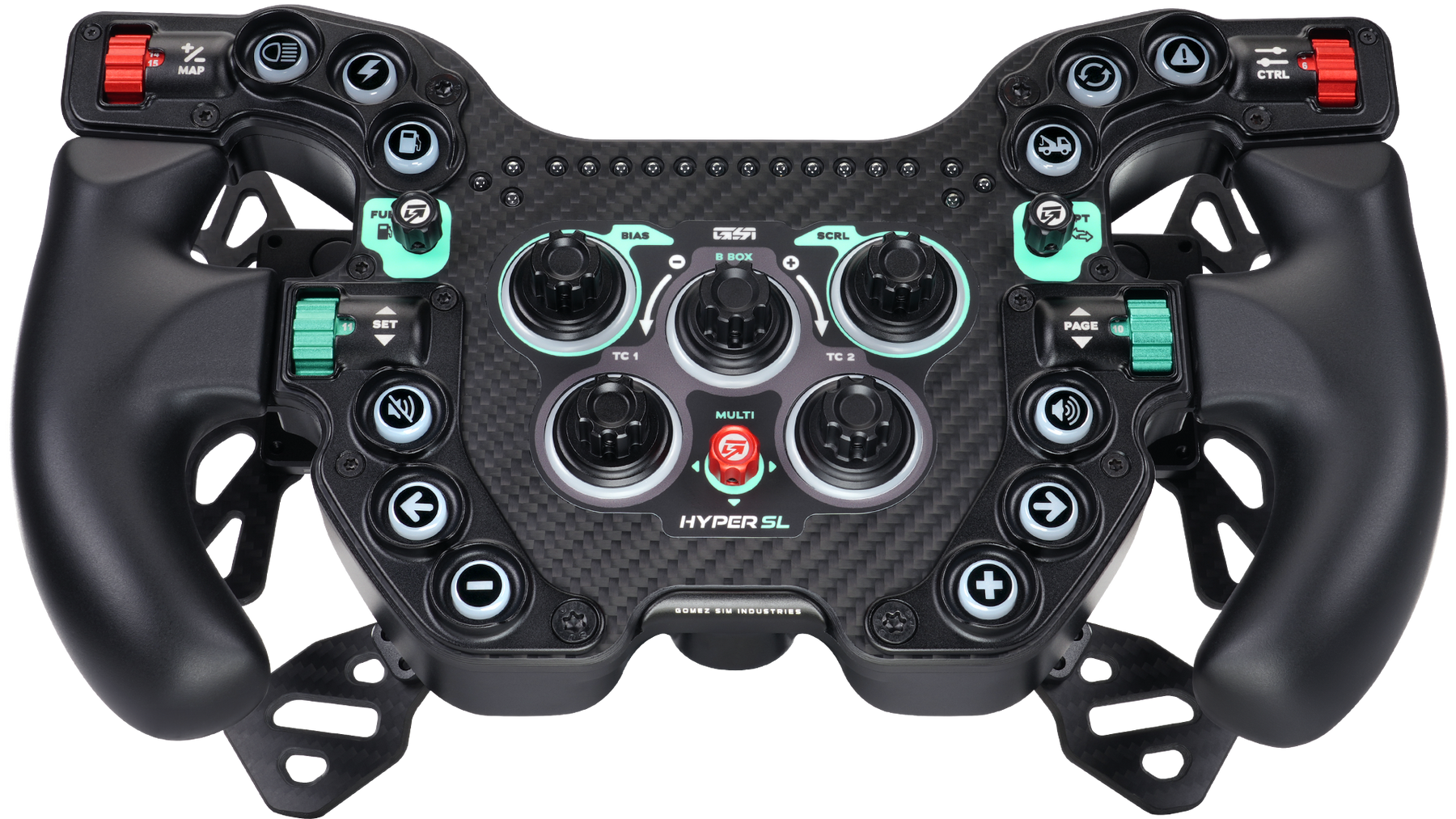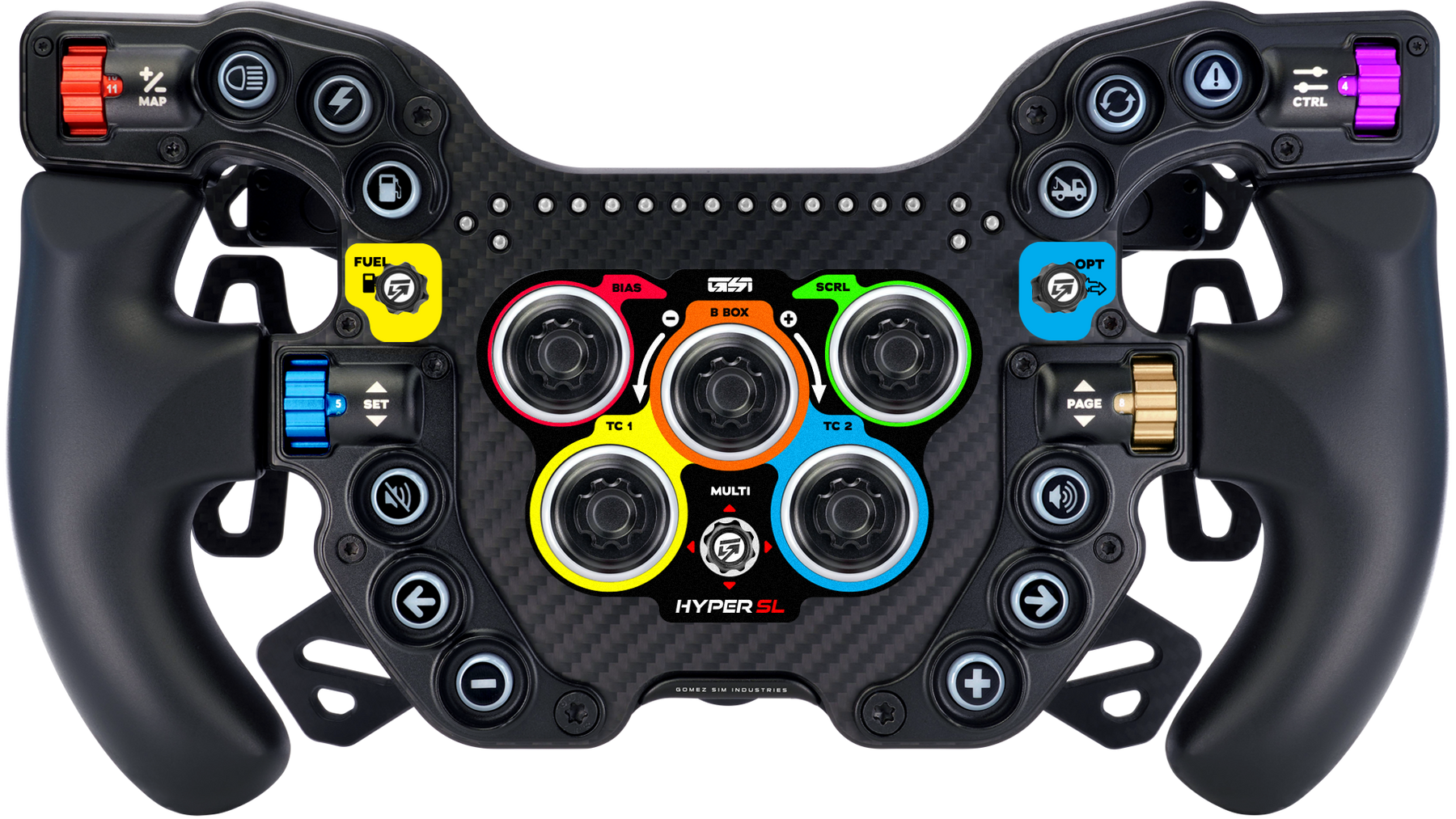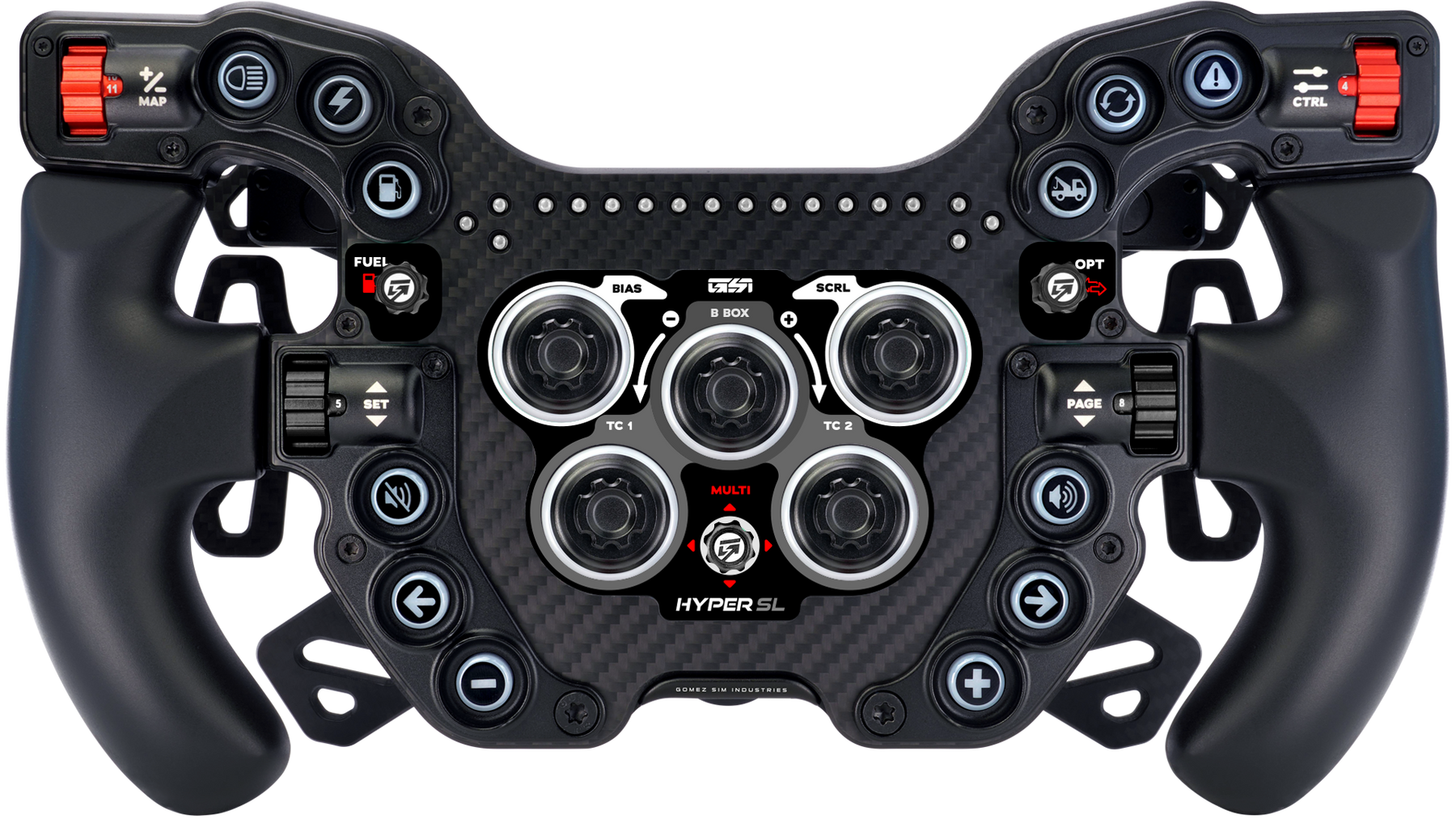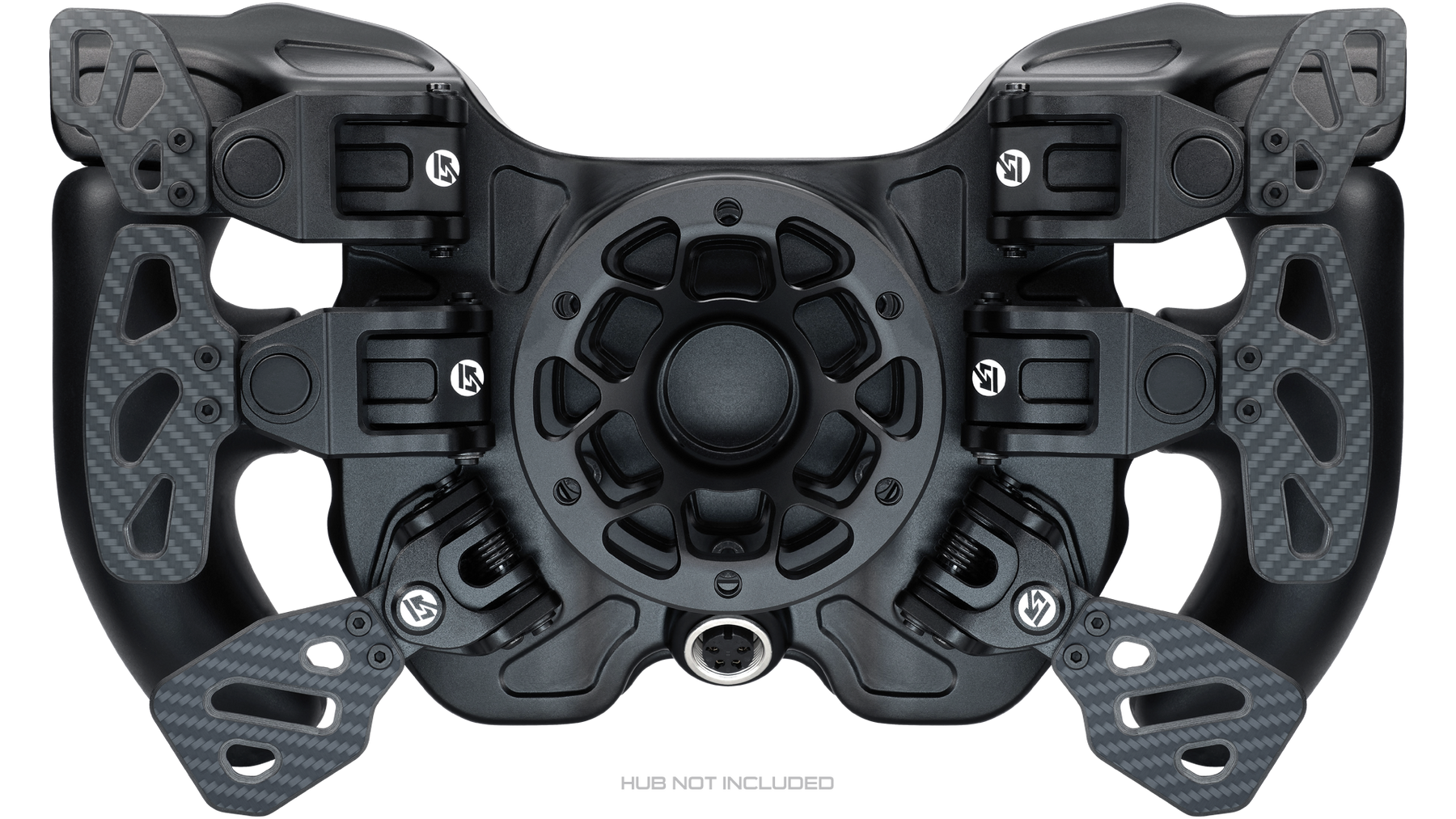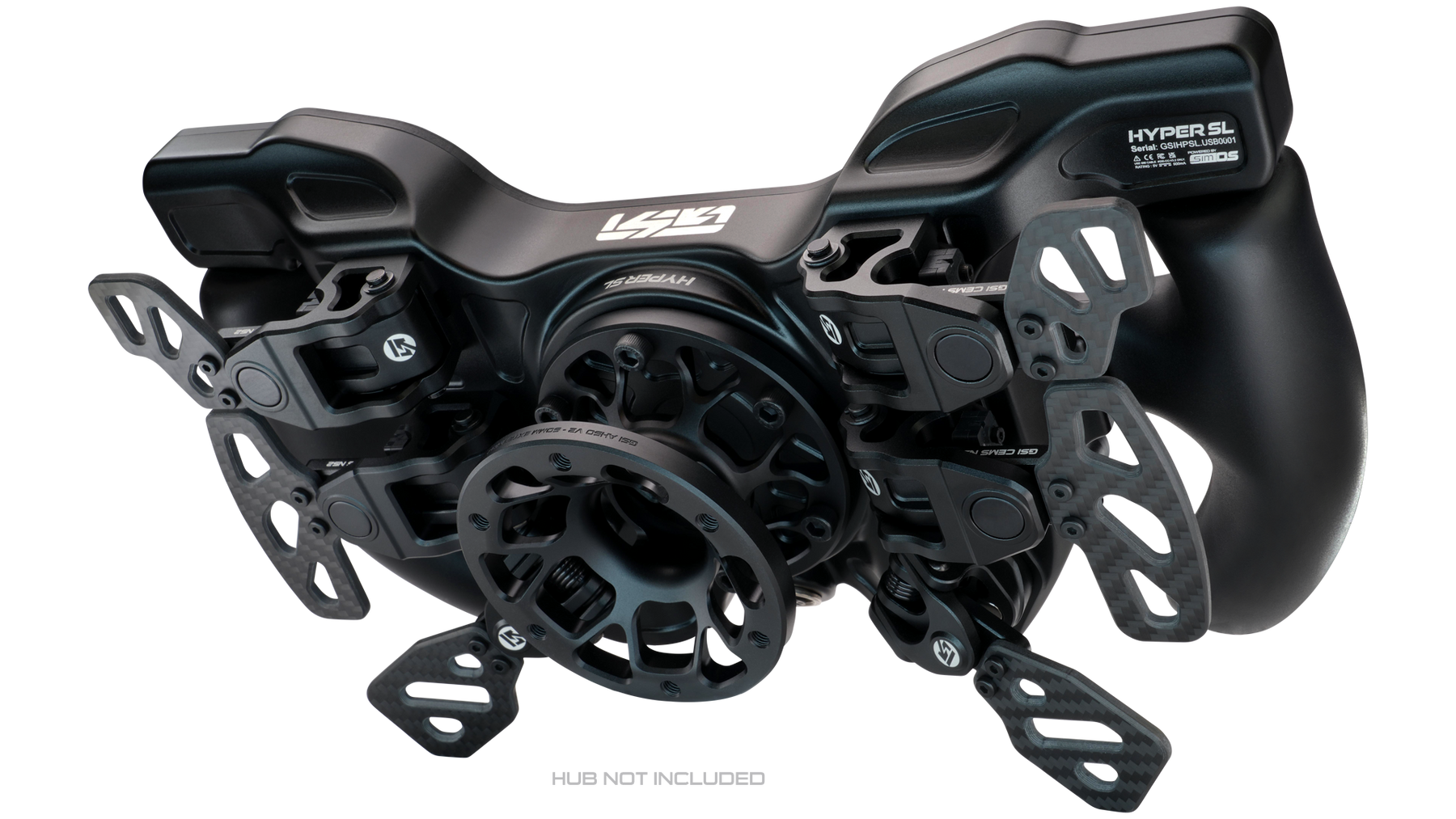 Hyper SL
SHIPPING BEGINS JANUARY 2024
Pickup available at 1167 Mississippi Avenue #100
Usually ready in 5+ days
Hyper SL
Ascent / 4 Paddles / Aluminum
1167 Mississippi Avenue #100
Pickup available, usually ready in 5+ days
1167 Mississippi Avenue #100
Dallas TX 75219
United States
Key Features
6.5ncm Rotary Encoders
3 Seven-Way Multi Switches
3 + 12 + 3 RGB LED Rev Lights
"CEMS N52" V3 Shifters
5 Backlit RGB LED Push-Button Rotary Encoders with 5-way functionality
Standard "HSE" Dual Clutches
(6-Paddle configuration available)
12 Momentary RGB LED Push Buttons
(500 gram actuation force)
"Spec 3" Coiled Cable
72 Total Mappable Inputs
86 Addressable RGB LEDs
6061 Aluminum Components
300mm Diameter
Direct-Injection Silicone Handles
70mm Threaded Bolt Pattern
5mm Carbon Fiber Faceplate
Extra Labels
What's Included
Hyper SL
GSI "Spec 3" Coiled USB Cable
Extra Labels
AH50 not included.
Wheelbases (Windows PC Only)
Simucube
Simagic
VRS DirectForce Pro
Accuforce (via Accuforce QR)
Fanatec DD Bases
(via Fanatec Podium Hub)

Moza (via Moza QR)

Most 8nm+ wheelbases

 
Recommended Connection
GSI Coiled Cable → Powered USB Hub → PC
*Non-active USB extension cables are not recommended.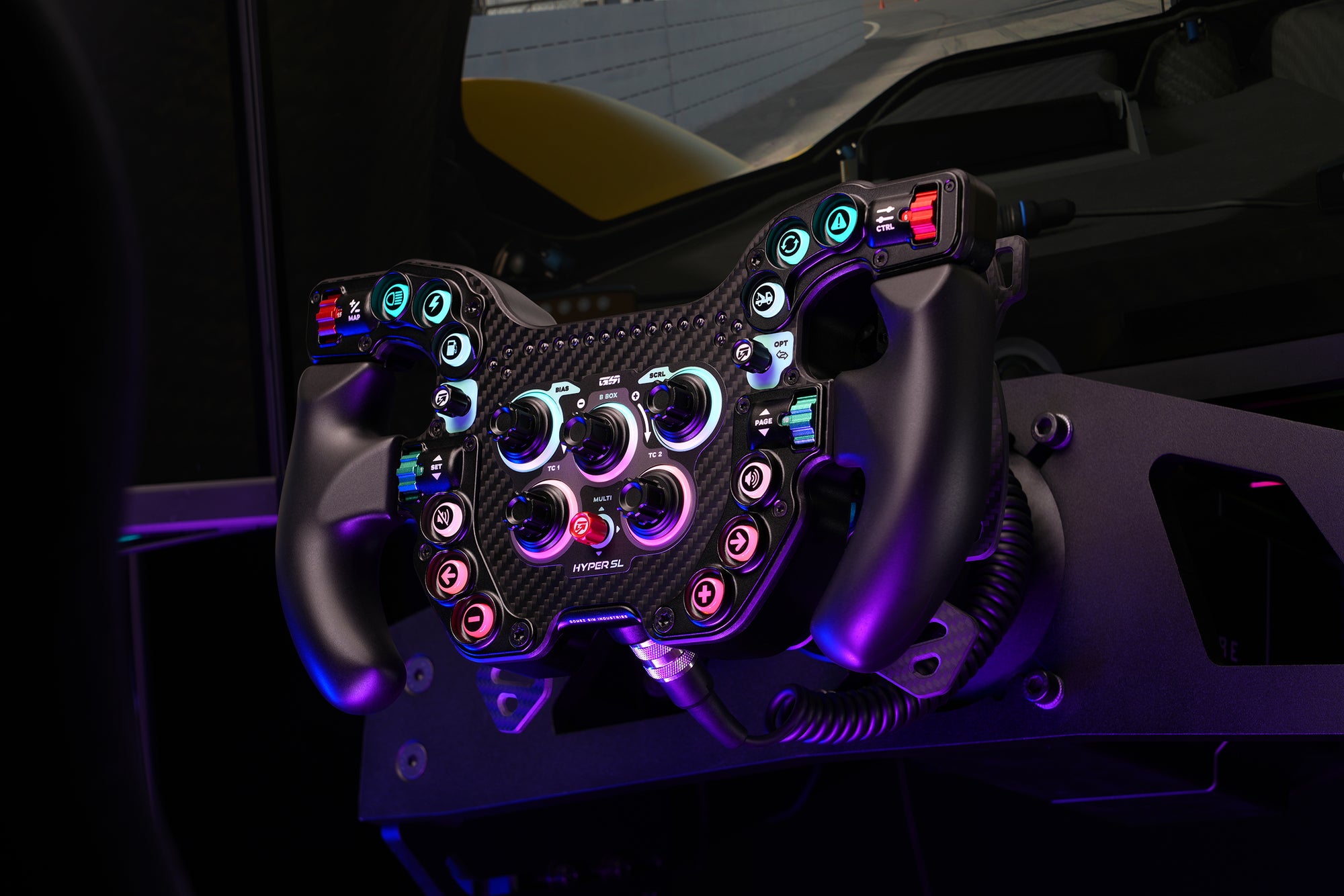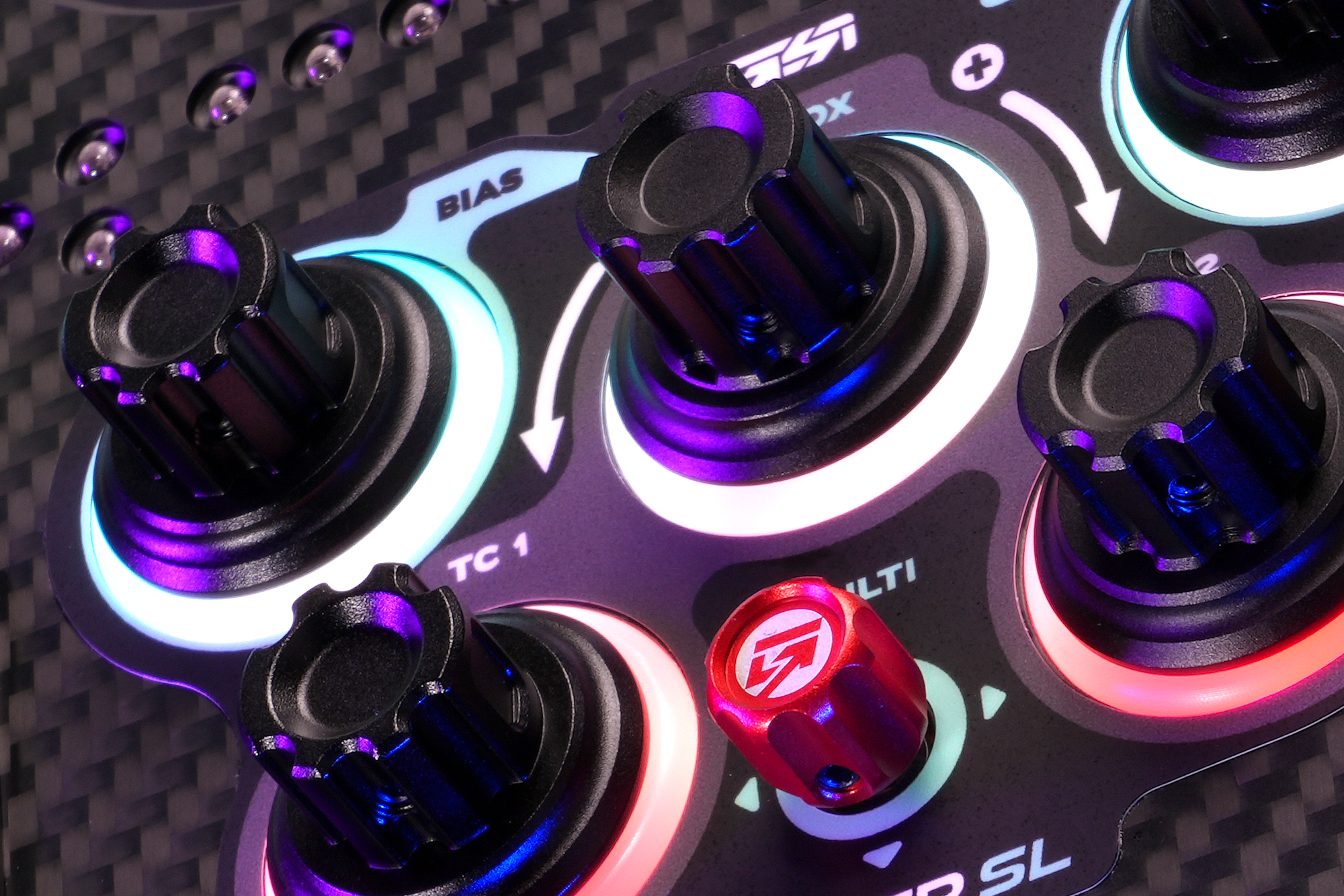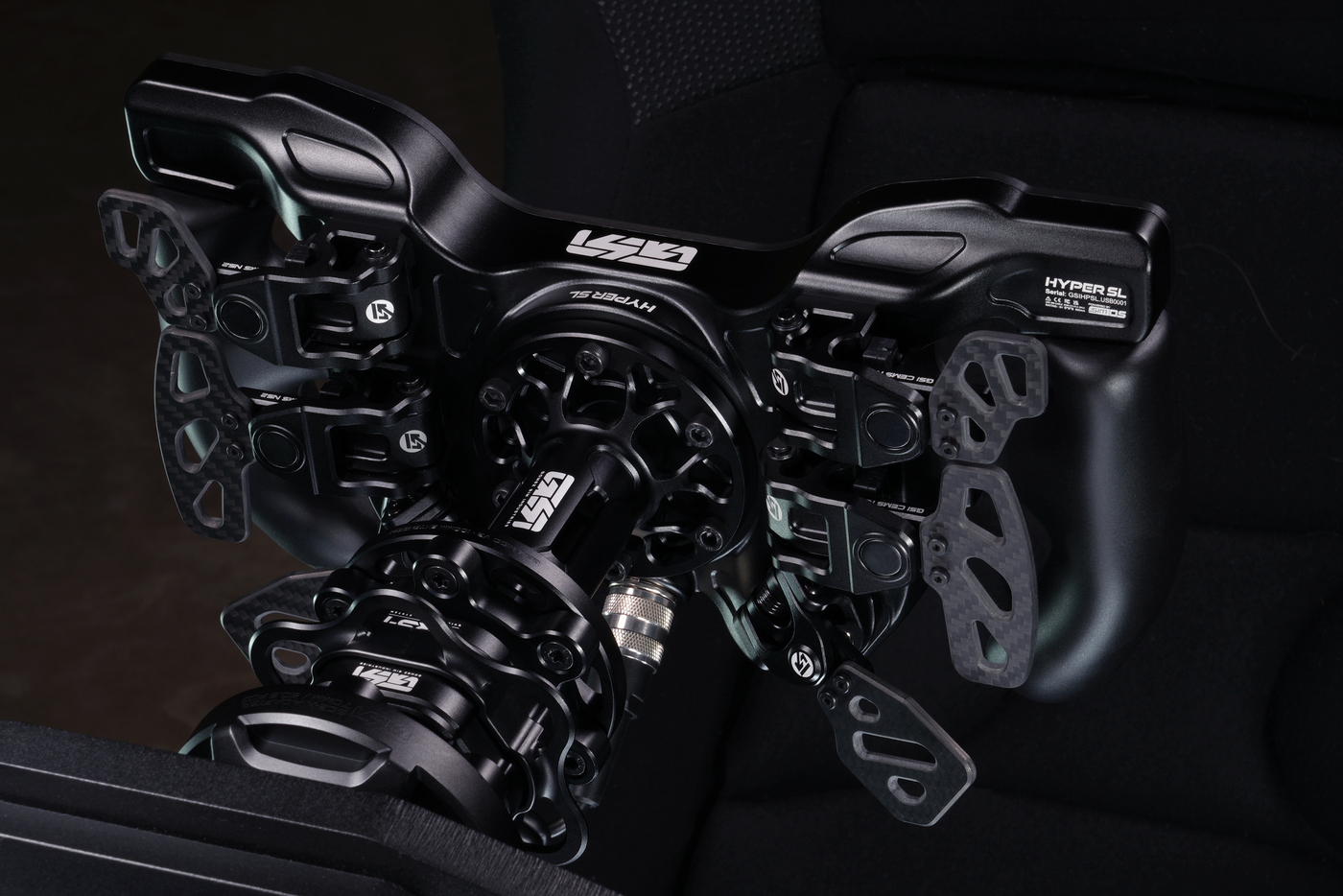 Precision Meets Art
In order to create the complex geometry and fit seamlessly together, the Hyper SL components are machined to an accuracy of just 50 microns, the width of a human hair.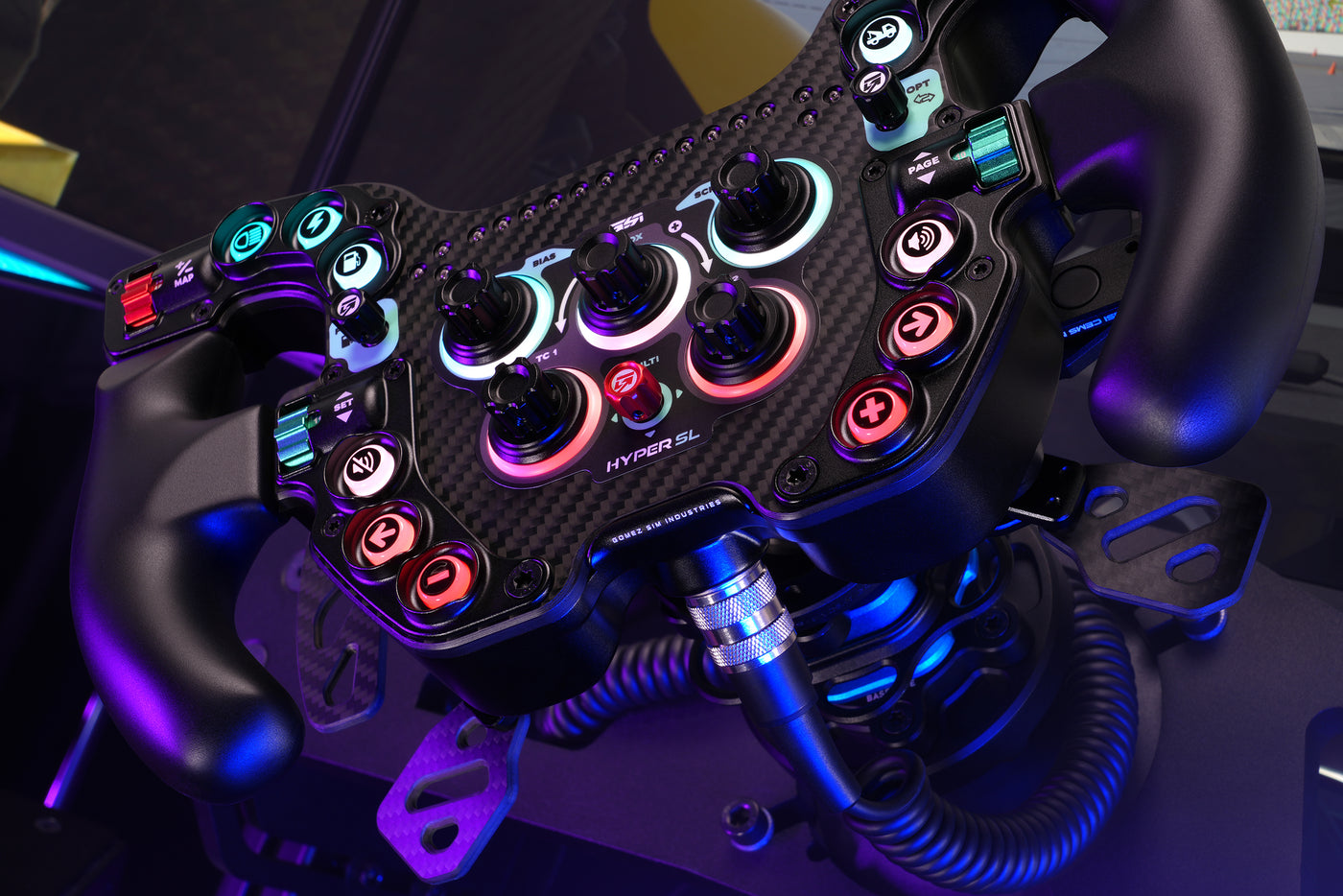 simOS Architecture
All new GSI wheels run on simOS, our custom firmware optimized specifically for sim racing. It includes features like predictive algorithms to optimize input responsiveness, an intelligent power management interface, and a suite of useful features that integrate directly with the simOS app.
72 Mappable Inputs
Map your inputs exactly as you'd like with nearly endless configuration options.
86 Addressable RGB LEDs
Customize the look and feel of your wheel on-the-fly and use real-time telemetry to influence how the LEDs function.
5 Push-Button Encoders
New and improved for the Hyper SL, our new rotaries are more tactile and satisfying to use than ever before.
12 RGB LED Push-Buttons
Tactile and responsive with engagement at 500 gram force and 4 fully addressable RGB LEDs per button.
3 Seven-Way Switches
Versatile and incredibly useful for controling in-game menus, black boxes, car settings and more.
Standard Dual Clutches
Find the perfect bitepoint and get off the line faster than ever before using our Launch Control feature in simOS.
3 + 12 + 3 LED Rev Lights
Know exactly when to shift and get additional information via the side indicator LEDs like traction control, ABS, flags, and more.
Zero-Flex Construction
6061 aerospace grade aluminum and 4MM thick genuine carbon fiber make the Hyper SL one of the most rigid wheels on the market.
Dust Resistant Handles
New and improved for the Hyper SL, the silicone handles feature a new dirt and dust resistant formula.
300MM Diameter
The perfect balance for formula and GT-style racecars, and more comfortable to drive during longer stints.